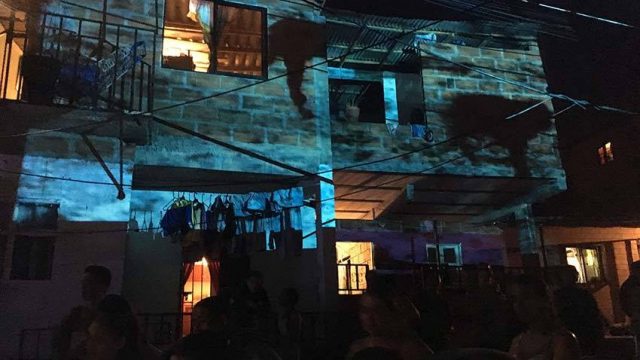 Ficciones cotidianas #1 // Medellin // Catherine Boskowitz – Jc Lanquetin
A project by Catherine Boskowitz and Jean Christophe Lanquetin with the inhabitants of the Sinaï neighborhood, Medellin [Colombia] // Light installations, Raphael Girouard [PluZ – Medellin] // Sound, Miguel Isaza // with 5 students from the HEAR – Strasbourg : Margot Ardouin, Lisa Colin, Maria Flor Pineiro, Adeline Fournier, Elise Vilatte / Photo, Ditoma Kadoule // Production, Cie ABC, Anne Sorlin – Co-Production, Collective ScU2 // The project is hosted by the Corporation Nuestra Gente, Medellin, and is part of the France Colombie season 2017 – Institut Français, the HEAR [Haute Ecole des Arts du Rhin, Strasbourg], The Region Ile de France.
A theater & visual arts project anchored in a urban context and developped from there [and not from an abstract stage] at every level. Parameters shift, that's the challenge: how can we 'amplify' [theatralize] a context and it's inhabitants in the design of a performance : a mix of social, aesthetic, economic, urbanistic, human, narrative with philosophic, esthetic, performative, dramaturgic. The project is a form of attention. Where does it takes us, which form[s], which narrative[s], which usership[s], [beyond spectatorship]… In process.

for more documents on the process [and in particular my BLOG].
The performance took place in the street in Medellin Sinaï, on the 28 and 29th of april 2017 [photos by Ditoma Kadoule & Jcl].
See fragments of the Sinaï performance HERE
+++++++++++++++++++++++++++++++++++++++++++++++++++++++++++++++++++++++++++++++++++++++++++++++++++++++
The area of Santa Cruz – Sinaï [Medellin]:
+++++++++++++++++++++++++++++++++++++++++++++++++++++++++++++++++++++++++++++++++++++++++++++++++++++++
The project
A series of preparatory drawings [spring 2017]