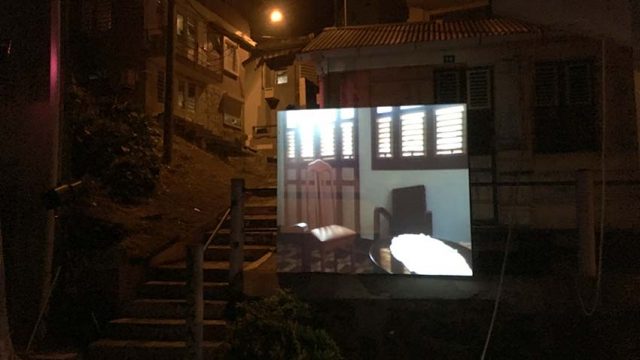 Fictions Ordinaires #2 // Fort de France // Catherine Boskowitz – Jc Lanquetin
A proposition by Catherine Boskowitz and Jean-Christophe Lanquetin with Raphael Girouard [Medellin] // Dancers : Murielle Bedot and Yaël Réunif // Lights: Raphael Girouard // Sound creation: Miguel Isaza [Medellin] // An invitation by Tropiques Atrium, Scène Nationale de la Martinique and La Maison Rouge / Christiane Emmanuel. // Production Cie ABC // Thanks to the inhabitants of Les Terres Saint Ville who played with us during the residency, to Hassane Kouyaté and the Tropiques Atrium team, and to Christiane Emmanuel.
For full presentation of the F2F process see HERE [the Fort de France version] and HERE [the Global presentation]. See also the Medellin version of the process HERE.
Images of the public presentation on the 27th of may in Terres Saint Villes.
+++++++++++++++++++++++++++++++++++++++++++++++++++
2 pieces / video and sound [It's better to use headphones].
Récit de Mme Cicéron
Récit du tamarinier
Fragments de la présentation publique le 27 mai 2017