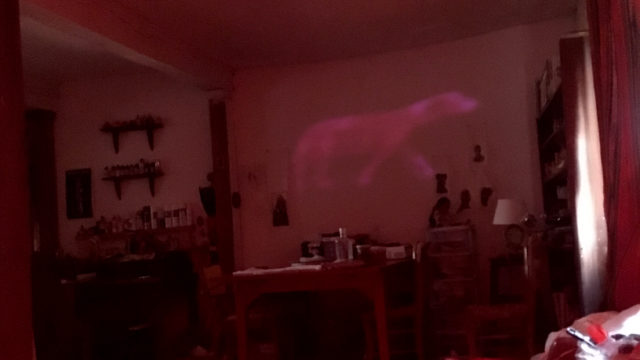 Le refuge // Catherine Boskowitz // Sevran, 2021
Texte Catherine Boskowitz // Jeu Catherine Boskowitz & Estelle Lesage // Regard extérieur Fred Fachena // Costumes Zouzou Leyens Vidéo Jc Lanquetin // assisté de Youri Martin // Production Cie ABC, Anne Sorlin // Voir le site de la cie ABC ICI

Un projet de théâtre en appartement sur un texte de Catherine Boskowitz, écrit lors d'une résidence à Sevran, en lien avec des foyers d'accueil de migrants et la vie des gens qui y résident. Le spectacle interroge la relation que nous avons avec les personnes migrantes, et notre capacité à les accueillir. Le spectacle se joue en appartement, dans le salon des personnes qui l'accueillent. J'interviens sous la forme d'une vidéo, des chiens qui, en fin de spectacle, apparaissent et courent un peu partout sur les murs.

– – – – – – – – – – – – – – – – – – – – – – – – – – – – – – – – – – – – –
An in apartment theater project based on a text by Catherine Boskowitz, written during a residency in Sevran, in connection with a center hosting migrant people and focusing on their lives. The performance questions the relationship we have with migrants, and our ability to welcome them. It takes place in apartments, in the living room of the people who welcome it. I intervene in the form of a video, dogs which, at the end of the show, appear and run around the walls.