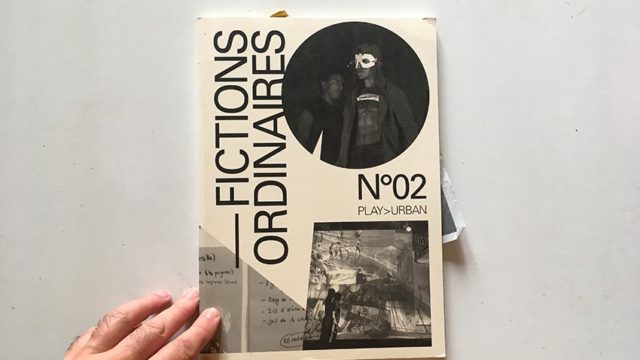 De Fictions Ordinaires à Play>Urban // HEAR La Chaufferie // 2018
Nous réalisons en une quinzaine de jours une exposition qui sera le chemin de fer du n°2 de la revue Play>Urban, intitulé Fictions Ordinaires. La première semaine, nous construisons l'exposition sur les murs de la Chaufferie, galerie de la HEAR, et le vendredi, c'est le vernissage. A partir du samedi et pendant cinq jours, Nina Stottrup Larsen, graphiste, prend la main et l'exposition devient revue, que le mercredi nous envoyons à l'imprimeur. Elle revient le vendredi pour un lancement qui clôture le processus. Entre temps deux soirées ont eu lieu, une portée par les étudiants, qui parlent de leurs projets en Colombie, à Port au Prince et à Strasbourg (dans le quartier de la Meinau). L'autre est une expérimentation, un dialogue visuel entre Catherine Boskowitz, François Duconseille et Jean-Christophe Lanquetin autour des questions artistiques et politiques générées par un tel processus, entre la Colombie, Strasbourg, Fort de France et Port au Prince. Voir pour plus de précisions sur les projets les pages sur Medellin, Fort de France et Port au Prince sur ce site. Il faut prendre les images ci dessous comme un récit visuel.
– – – – – – – – – – – – – – – – – – – – – – – – – – – – – – – – – – – – – – – – – – – – –
We create in a two weeks time an exhibition which will be the railroad for n ° 2 of the review Play> Urban, entitled Ordinary Fictions. The first week, we build the exhibition on the walls of La Chaufferie, gallery of the HEAR, and on friday, it's the opening. From Saturday on and for five days, Nina Stottrup Larsen, graphic designer, takes the hand and the exhibition becomes the publication; on Wednesday we send it to the printer. On friday we launch the publication and close the process. In the meantime two evenings took place, one carried by the students, who talk about their projects in Colombia, Port au Prince and Strasbourg (in La Meinau district). The other is an experiment, a visual dialogue between Catherine Boskowitz, François Duconseille and Jean-Christophe Lanquetin around the artistic and political questions generated by such a process, between Colombia, Strasbourg, Fort de France and Port au Prince. For more details on the projects, see the pages on Medellin, Fort de France and Port au Prince on this site. Please take the images below as a visual story.