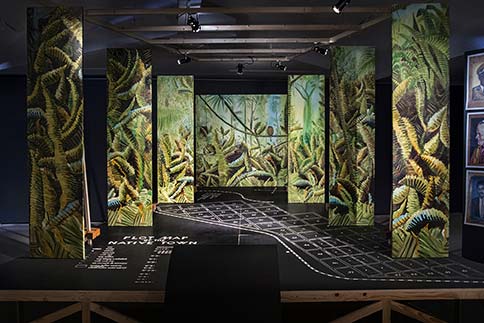 A Blueprint for toads and snakes // Sammy Baloji @ FramerFramed // Amsterdam // 2018
Scenography for a solo exhibition by Sammy Baloji @ FramerFramed – Amsterdam. Opening 24th of june 2018. See : HERE  — Photos by Marlise Steeman, Eva Broekema & Jcl.
The installation is a triple 'theater' : the central one is an 'oeil du prince' stage, with a painted decor (by Yannick Luzuaki), in the congolese popular painting style. The stage is for a play 'the toad and the snake', by Joseph Kiwele, written in the colonial time in Lubumbashi, telling the impossible friendship between the two animals. The images around are popular portraits paintings photographed by Sammy Baloji in Lubumbashi. They are like the casting of the play. On the floor of the stage, the plan of an indigenous city in Lubumbashi. All elements being here part of the colonial aparatus : the geometric plan, the geometric theater, the frame of the portraits…
Two other 'theaters' supplement the black box theater : the red one shows a video by SB in a factory producing cooper in Lubumbashi – and the third one, a white space with just one plan of land expropriation in order to empty the space between the european city and the indigenous city. On it SB painted the geometric representation of a trapdoor on the floor of a classic theater, inspired from the Sabbatini traité. In order to remind this colonial apparatus was also in the Neederlands, an open frame, a window oppened on the city faces the plan.
Process :