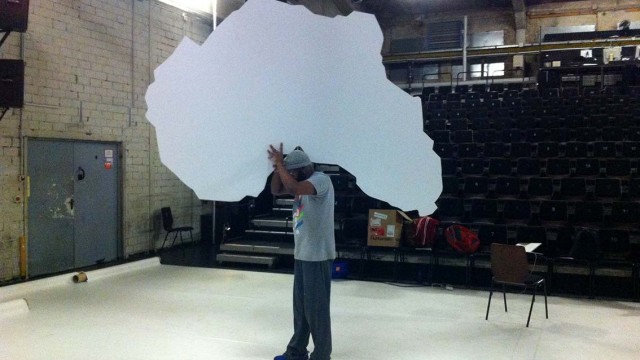 Banana Republics – here be dragons // Boyzie Cekwana – Nina Stottrup Larsen
A  piece by Boyzie Cekwana (performance) & Nina Stottrup Larsen (video – images) – Eric Wurtz (Lights) – JcLanquetin (Scenography) // Kampnagel, Hamburg, 1-2 oct 2015.
A staged 'reflexion' on the situation of black people, the perpetuation of the colonial domination in multiple ways, the fact things didn't really change since the time of decolonizations, and the end of apartheid. It questions the necessity of violence (by black people) instead of the ongoing politics of forgiveness (to white people) ; It is about black bodies and white terrorism… The piece is built on a contemporary lecture of Sartre text (1961), introducing Fanon's Wretched of the earth.
« Regardons nous, si nous en avons le courage, et voyons ce qu'il advient de nous.
Il faut affronter d'abord ce spectacle inattendu : le strip tease de notre humanisme. Le voici tout nu, pas beau : ce n'était qu'une idéologie menteuse, l'exquise justification du pillage ; ses tendresses et sa préciosité cautionnaient nos agressions. Ils ont bonne mine, les non-violents : ni victimes, ni bourreaux ! Allons ! Si vous n'êtes pas victimes, quand le gouvernement que vous avez plébiscité, quand l'armée où vos jeunes frères ont servi, sans hésitation ni remords, ont entrepris un 'génocide', vous êtes indubitablement des bourreaux. Et si vous choisissez d'être victimes, de risquer un jour ou deux de prison, vous choisissez simplement de tirer votre épingle du jeu. Vous ne l'en tirerez pas : il faut qu'elle y reste jusque au bout. Comprenez enfin ceci : si la violence a commencé ce soir, si l'exploitation ni l'oppression n'ont jamais existé sur terre peut-être la non violence affichée peut apaiser la querelle. Mais si le régime tout entier et jusque à vos non-violences pensées sont conditionnés par une oppression millénaire, votre passivité ne sert qu'à vous ranger du coté des oppresseurs. …
Jean Paul Sartre, préface à Les damnés de la terre, Frantz Fanon
The space is a white floor bi-frontal, but on the back of one audience space is another performing space, non directly visible by audience, only via a vertical camera. The Africa map is there on the floor and B performs with it, visible on a large screening on the wall. Then the Africa map becomes a table for tv news… which he destroys with a tronconneuse. B is almost constantly under the eye of a control camera, manipulated by me (at Kampnagel) or Nina Stottrup Larsen, who also designed all the videos, kind of fake tv news, headlines and so on.