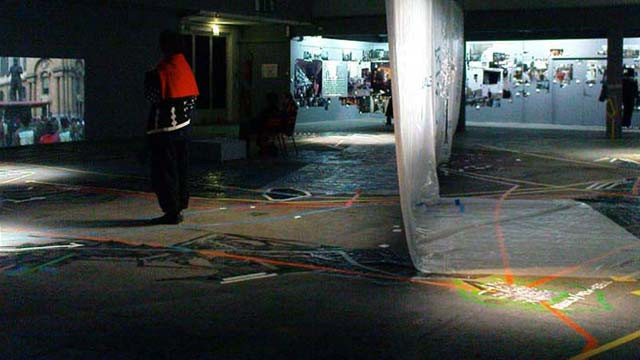 Urban Scénos <> Dark Zone? // Le Maillon // 2010
Installation avec François Duconseille (ScU2) // du 18 au 30 mars 2010 au Maillon, Strasbourg // Vernissage le 18 mars à 19:00 // Présentation publique « RR=FF », le 30mars à 19:30 // Avec le soutien de l'Ecole Supérieure des Arts Décoratifs de Strasbourg & de la Ville de Strasbourg.
Voir le site Scénos Urbaines

Une cartographie mentale autour de nos enjeux personnels autour des Scénos Urbaines, et de la possibilité de voir de nombreux documents de projet qui ont été développés par les artistes durant les résidences entre 2002 et 2010. Les questions, nous les appelons, Dark Zone, manière d'esquisser les zones d'ombres qui font partie du projet. C'est venu d'une intuition, lors de l'exposition à Basel ArtFair 2009. Le mur que nous y avons réalisé, le réseau que nous dessinions, était peut-être trop didactique. Au Maillon, nous mettons en espace les questions et le réseau ; réseau, comme une manière d'aller au-delà des clivages 'Europe/Afrique'. Autour de cet espace, trois écrans vidéo avec diverses performances créées durant les résidences, et sur les murs, des images, des fragments, des textes…
– – – – – – – – – – – – – – – – – – – – – – – – – – – – – – – – – – –
A  mental cartography around our personal questions about the Urban Scénos project, and the possibility to see many documents about the projects who were developed by artists during the residencies between 2002 and 2010. The questions, we call them « Dark zone? », a way to sketch around the shadows wich are part of the project. It came from an intuition, during the exhibition at Basel ArtFair 2009, the wall we made there, the network we were sketching, was maybe too didactic. In the Maillon, we stage a space of questions and a network; network also as a way to go over the clivages around Europ/Africa. Around this space, 3 video screens with various performances created during the residencies, and on the walls, images, fragments, texts…
On the 30th of march we will activate this space, during the time of a public presentation « RR=FF ».
Une série de dessins préparatoires et de notes

Fragment d'un texte de Paul Gilroy, dans L'Atlantique Noir