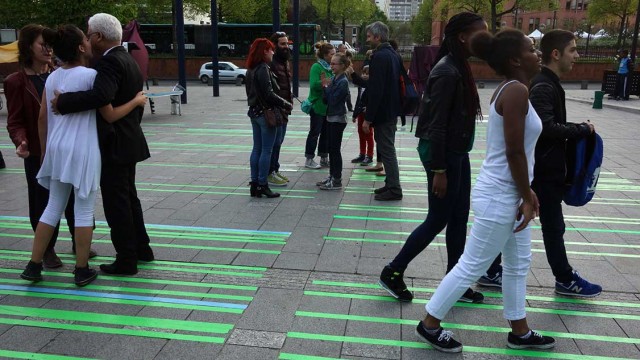 Performance in Vitry sur Seine // Andreya Ouamba
A performance project by Andreya Ouamba.
Beyond the statement – about faith and new technologies -, in such a performance the relation to audiences is the real thing. We are in a suburg of Paris, and the theater who invites stages a proposal in urban space for the first time. Immediately the reaction of people is of interest, they are curious and keen to get involved. The scenographic space for a short time shifts the daily life.
17 avril 2015, in front of the Théâtre Jean Vilar, Vitry sur Seine.
Concept et mise en espace : Andréya Ouamba Scénographe : Jean-Christophe Lanquetin Artiste Nouveaux-Médias : Anahita Hekmat Contre ténor : Julien Marine Danseurs : Delphine Cammal, Andréya Ouamba, Nadia Beugré Comédienne : Soleima Arabi Performers : Androa Mindre Costumes : Androa Mindre avec la participation du Collectif Tryema de Vitry-sur-Seine