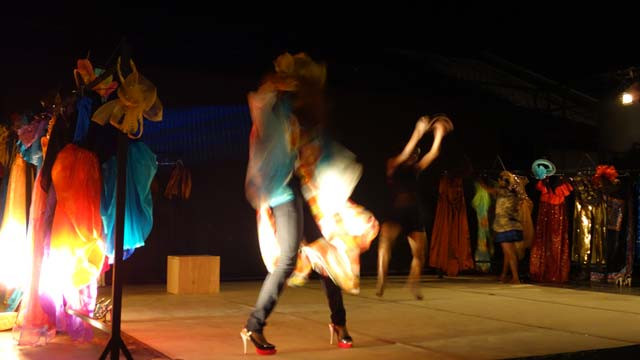 2014 // Regarde moi ! Ce que nous sommes // Fatou Cisse
Look at me ! What we are
Choreography Fatou Cisse / Dancers Aicha Kabore, Alicia Gomis, Clarisse Sagna, Fatou Cisse / Space and video Jc Lanquetin / Costumes Dominique Mbengue / Lights Olivier Allemagne / Administration Ndèye Mané Touré / A project by Cie Fatou Cisse / Creation in St Louis du Senegal, Dakar, Tunis, april-may 2014.
A dance performance by Senegalese choreographer and dancer Fatou Cisse. It is about Taneber, a popular dance practice built on extremely fast performances and dress up by ordinary people. A way to show up, to show who you are. It becomes a dance piece with 4 woman, the stage is like a ring, with around a lot of women's clothes, extremely visible, as it is in Dakar. The piece is like a battle, between the ring, the street, and the night club. A very first version of this project was staged as a street performance during Urban Scénos Dakar 2013.
NB : I was not involved in the second version of this performance (Le bal du cercle), at Festival d'Avignon 2015.