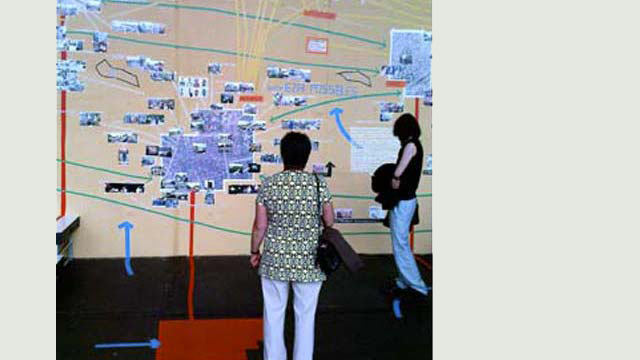 Urban Scénos à Basel ArtFair // 2009
A Urban Scénos presentation at Basel Art Fair (Volta Halle) A project with François Duconseille (ScU2) // Avec Hervé Youmbi, Unathi Sigenu, Blaise Bang, Appolinaire Wantina, Eddy Ekete.

Voire le site Scénos Urbaines – Voir  2010 Le Maillon presentation.

Une cartographie sur un mur, mettant en scène le réseau des Scénos Urbaines, l'ensemble des circulations d'artistes entre villes où ont eu lieu les résidences. Autour de chaque ville [Douala, Alexandrie, Johannesburg, mais aussi Paris, Strasbourg, et l'ensemble des lieux d'où viennent les artistes], un ensemble d'images de projets d'artistes. Cette présentation avait un coté didactique, et nous sommes arrivés à un moment où nous voulions trouver un moyen de mettre en espace les questions autour de ce projet, ce que nous appelons la 'Dark Zone', en lien avec le contexte post-colonial dans lequel nous baignons.

– – – – – – – – – – – – – – – – – – – – – – – – – – – – – – – – – – – – – –
A mapping on a wall, staging the Urban Scénos network, all the artists circulations between cities where the residencies took place. Around each city (Douala, Kinshasa, Alexandrie, Johannesburg, but also Paris, Strasbourg, and all places where artists come from), a series of pictures about artists projects. This presentation was quite didactic, and we came to the point we would like to find a way to stage the questions  around this project, what we call it's 'dark zone', related to the post colonial context in which we live in.