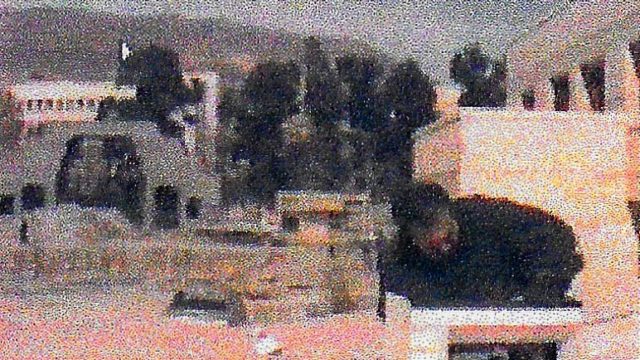 Workshop à l'ISAD de Damas // 1995
Ce workshop a quelque chose d'initiatique. C'est le premier atelier que je donne sur des questions de scénographie. Il fait partie d'un projet de création initié par les services culturels de l'Ambassade de France [Jean François Fourcade], l'Union Européenne, en dialogue avec l'ISTS Avignon [Institut Supérieur des Techniques du Spectacle – dirigé à l'époque par Claude Sauze], où je travaille alors. L'atelier prépare les étudiants de l'ISAD de Damas, école de théâtre, aux enjeux scénographiques du texte choisi par la metteure en scène Naila Al Attrach, à savoir Miniatures de Saadallah Wannous. Je travaille avec deux 'traductrices', en fait bien plus que cela : Hanan Kassab Hassan et Marie Elias. Elles font le lien, le travail de dramaturgie, elles m'introduisent dans ce monde complexe qu'est la Syrie des années 90.

L'atelier se révèle un moment étonnant de réflexion collective sur les questions d'espace théâtral en Syrie et dans le monde Arabe. Le lieu proposé est un théâtre adjacent à l'école, une petite scène frontale. Assez vite les étudiants souhaitent en sortir pour expérimenter d'autres rapports scéniques, dans la ville, dans d'autres lieux. Nous les y autorisons, et l'atelier devient passionnant tant chacun expérimente via l'espace, assez librement, ses enjeux et sa relation au théâtre. L'atelier doit durer deux semaines, suite à quoi la création est censée commencer. Elle est interrompue, puis interdite par le Ministère de la Culture. L'atelier se prolonge donc, comme un moment de discussions, d'échanges, un moment de vie collective. Nous nous savons écoutés par les services secrets, mais cela n'a au final pas grande importance. Ce projet sera repris en 1997 par le nouvel attaché Culturel, Alexis Tadié. Le spectacle sera alors créé à la Forteresse de Damas [voir ICI].
Pour moi ce workshop déclenche un désir de mieux comprendre les enjeux de la théâtralité dans le monde Arabe, ce que je fais entre 1997 et 1998 via un DEA à la Sorbonne Nouvelle [dirigé par Georges Banu]. J'y travaille sur trois formes : un T'azie iranien, un Mawlid [Sayeda Zeynab, le Caire], et un ensemble de miniatures décrivant les fêtes à la cour du Sultan Ottoman.
– – – – – – – – – – – – – – – – – – – – – – – – – – – – – – – – – – – – – – – – – – – – – –
There is something initiatory about this workshop. This is the first workshop I give on scenography issues. It is part of a creation project initiated by the cultural services of the Embassy of France [Jean François Fourcade], the European Union, in dialogue with ISTS Avignon [Institut Supérieur des Techniques du Spectacle – Claude Sauze, director], where I work so. The workshop prepares the students of ISAD in Damascus, a theater school, for the scenographic stakes of the text chosen by the director Naila Al Attrach, namely Miniatures by Saadallah Wannous. I work with two 'translators', in fact much more than that: Hanan Kassab Hassan and Marie Elias. They create the link, the work of dramaturgy, they introduce me to this complex world that is Syria in the 90s.
The workshop turns out to be an astonishing moment of collective reflection on the issues of theatrical space in Syria and in the Arab world. The proposed place is a theater adjacent to the school, a small frontal stage. Quite soon, the students wish to leave it to experience other scenic relationships, in the city, in other places. We allow them to do so, and the workshop becomes fascinating as each one experiences through space, quite freely, its challenges and its relationship to theater. The workshop is to last two weeks, after which the creation process is supposed to begin. It is interrupted, then banned by the Ministry of Culture. The workshop therefore continues, like a moment of discussions, of exchanges, a moment of collective life. We know that we are listened to by the secret services, but in the end that does not really matter. This project  will be restaged in 1997 by the new cultural attaché, Alexis Tadié. The show will then be created at the Fortress of Damascus [see HERE].

For me this workshop triggers a desire to better understand the issues of theatricality in the Arab world, which I did between 1997 and 1998 via a DEA at the Sorbonne Nouvelle [directed by Georges Banu]. I work there on three forms: an Iranian T'azie, a Mawlid [Sayeda Zeynab, Cairo], and a set of miniatures describing the festivals at the court of the Ottoman Sultan.