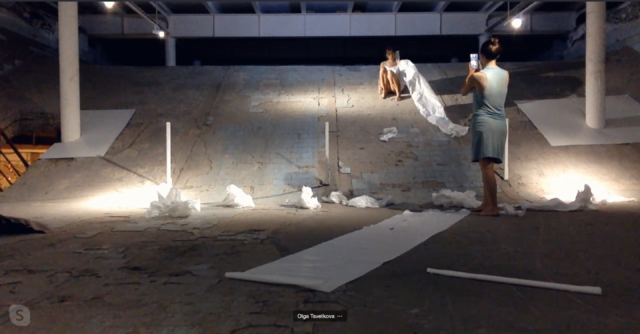 St Petersbourg // Avec Olga Tsvetkova & Valentina Lutsenko // performance chorégraphique // 2021
Olga Tsvetkova & Valentina Lutsenko, danseuses, m'invitent [avec le soutien de l'Institut Français de Russie-St Petersbourg], à développer ensemble une performance chorégraphique à St Petersbourg, dans les sous sols de l'église St Pierre et Paul. Ce sous sol est l'ancien bassin d'une piscine construite à l'époque communiste en lieu et place de la nef de l'église. Après 1991, les églises ont été rendues au culte, la piscine a donc été recouverte. Elle est aujourd'hui un espace d'expositions et de spectacles. D'où la configuration si particulière de cet espace, puisqu'une partie du sol est en pente.

– – – – – – – – – – – – – – – – – – – – – – – – – – – – – – – – – – – – – – – – – – – – – –
Olga Tsvetkova & Valentina Lutsenko, dancers, invite me [with the support of the French Institute of Russia-St Petersburg], to develop together a choreographic performance in St Petersburg, in the basement of St Peter and Paul Church. This basement is the old basin of a swimming pool built in the communist era in place of the nave of the church. After 1991, the churches were worshiped, so the pool was re-covered. Today it is a space for exhibitions and shows. Hence the very particular configuration of this space, since part of the ground is sloping.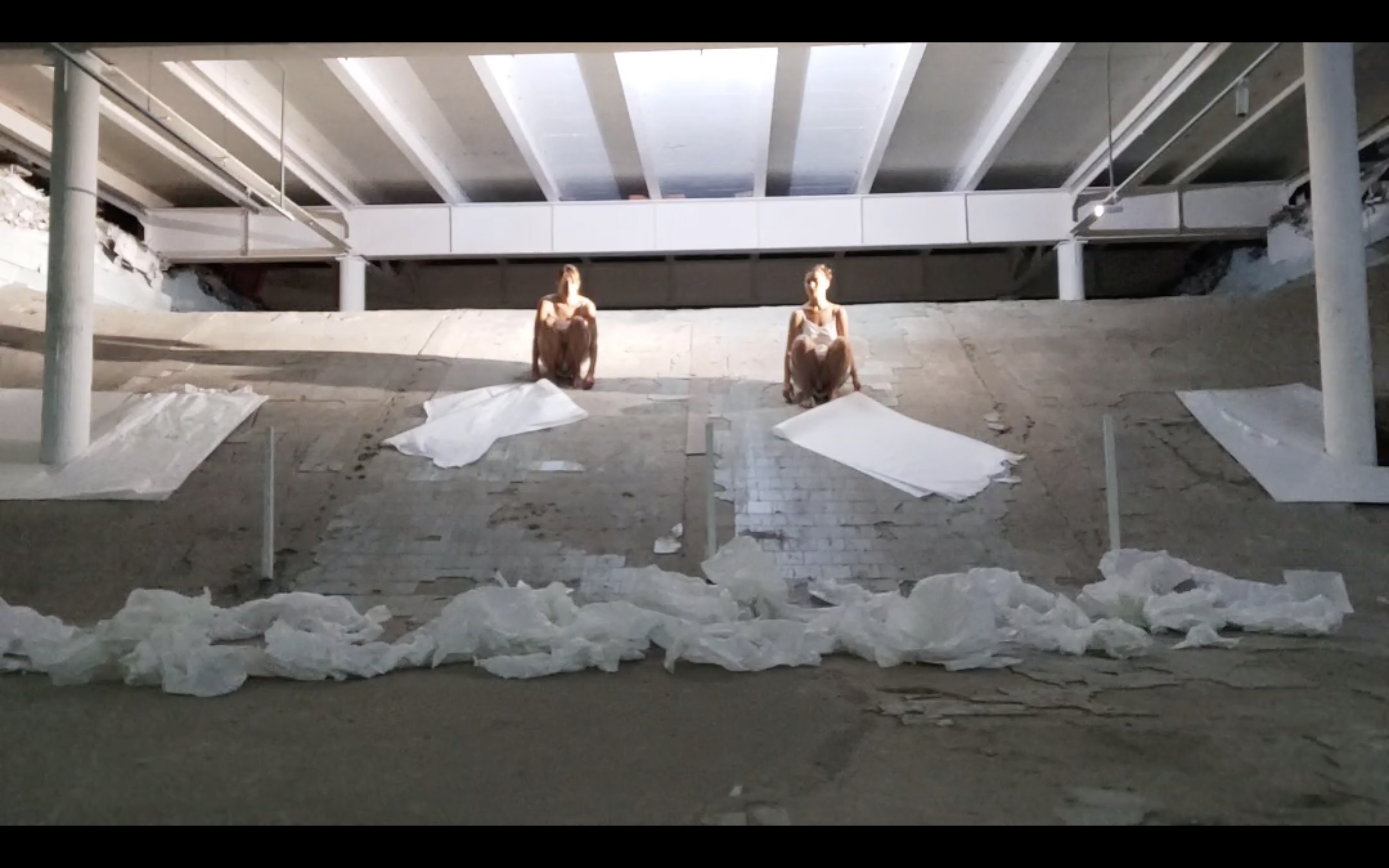 Images by Anton Senko
Le projet – nous dialoguons en ligne depuis début 2020 [pour cause de covid] – se construit via des échanges, des textes, de vidéos, et se focalise autour de l'idée d'un glissement, un intervalle, suggéré par l'espace, entre le haut et le bas. Au dessus un espace de spiritualité, l'église, au sol, un espace physique, sportif, la piscine. Les danseuses sont sur la pente, 'suspendues' entre les deux. La pente est raide, il est difficile de trouver un équilibre entre ces dimensions, mais aussi physiquement, performativement. Nous introduisons un élément supplémentaire, un ensemble de papiers blancs. Avec eux, les corps dansant se font sculptures vivantes. Les papiers, froissés, usés, finissent par glisser en bas de la pente, où ils s'entassent comme des déchets. Et puis, Olga et Valentina les ramassent, les regardent et les disposent au sol avec attention. Ils deviennent comme des monuments.

– – – – – – – – – – – – – – – – – – – – – – – – – – – – – – – – – – – – – – – – – – – –
The project – we have been talking online since early 2020 [due to covid] – is built via exchanges, texts, videos, and focuses around the idea of ​​a sliding, an interval, suggested by the space , between the top and the bottom. Above a space of spirituality, the church, on the ground, a physical space, sports, the swimming pool. The dancers are on the slope, 'suspended' between the two. The slope is steep, it is difficult to find a balance between these dimensions, but also physically, performatively. We introduce an additional element, a set of white papers. With them, dancing bodies become living sculptures. The papers, crumpled, worn, end up sliding down the slope, where they pile up like garbage. And then, Olga and Valentina pick them up, look at them and carefully place them on the ground. They become like monuments.
Screenshots pendant le spectacle.
Une étape du projet est présentée dans le cadre du festival Open Look à St Petersbourg le 20 aout 2021. Une seconde étape aura lieu en décembre 2021.
A stage of the project is presented within the framework of the Open Look festival in St Petersburg on August 20, 2021. A second stage will take place in December 2021.
Esquisses pour le travail sur les papiers froissés, et leur devenir monument – sculpture.
Sketches for working on crumpled papers, and their becoming a monument – sculpture.