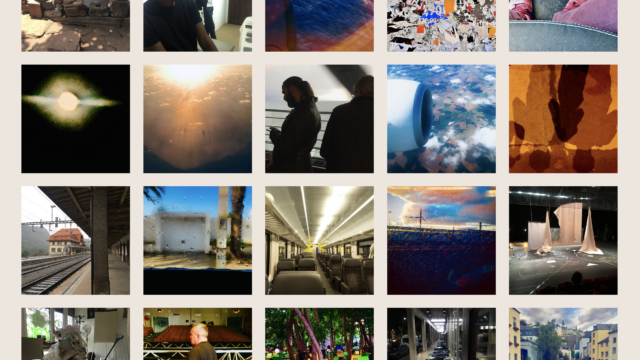 Un journal visuel // A visual diary
Un projet photographique sans fin et sans but, au fil du quotidien et des déplacements, avec un iphone. Ni lieux, ni dates.
Dans une première version de ce projet visible ICI, je 'classais' les images dans une recherche intuitive autour de la notion de théâtralité. La théâtralité hante toujours [mais pas que], mais ici plus de classement pour faire place à une forme aléatoire. Cela tend de plus en plus à ne plus rien tenter de dire, juste regarder, des moments, des situations, des présences, des matières, des lumières, des objets, des corps… Images instants dont le format carré renvoie au polaroïd.

– – – – – – – – – – – – – – – – – – – – – – – – – – – – – – – – – – – – – – – – – – – – –
An endless and aimless photographic project, throughout everyday life and on the go, with an iPhone and the image correctors available on Photos and Instagram. No places, no dates. In a first version of this project visible HERE, I 'classified' the images in an intuitive research around the notion of theatricality. It's still about that, but here no ordering but a random form. It tends more and more to no longer try to say anything, just look at moments, situations, presences, materials, lights, objects, bodies … Instant pictures whose square format refers to polaroïds.