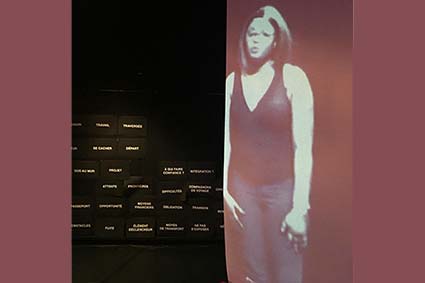 Traverses / un atelier – Leyla Rabih – Choisy le Roy, 2017
Un projet de Leyla Rabih [Cie Grenier Neuf] avec Maxime Chudeau [scénographie, son], J-Christophe Lanquetin [vidéo].
Traverses est un processus au long cours, dont l'enjeu est de travailler avec des migrants, des demandeurs d'asile, dans une série de lieux à travers l'Europe et la méditérannée. Etape 1, Choisy le Roy // Avril – septembre 2017. Durant 6 mois, une quinzaine de résidents du Centre d'Accueil de Demandeurs d'Asile [CADA] de Choisy-le-Roi, accompagnés par 3 artistes de la compagnie Grenier Neuf  interrogent ensemble leurs expérience de l'exil et leurs trajectoires. Restitution collective, au Théâtre Paul Eluard de Choisy le Roy, le 16 septembre 2017. Etape 2, Strasbourg // Mai 2019, avec Le Maillon.

Etape 1 menée grâce au soutien du fonds de dotation InPACT – Initiative pour le partage culturel. Ce projet reçoit également le soutien du SDAT DRAC IDF, de la Politique de la ville et de la ville de Choisy-le-Roi.
– – – – – – – – – – – – – – – – – – – – – – – – – – – – – – – – – – – – – – – –
A project by Leyla Rabih [Cie Grenier Neuf] with Maxime Chudeau [scenography, sound], J-Christophe Lanquetin [Video].  Traverses is a long-term process, the stake is to work with migrants, asylum seekers, in a series of places across Europe and the Mediterranean. Stage 1, Choisy le Roy // April – September 2017. For 6 months, fifteen residents of the Reception Center for Asylum Seekers [CADA] in Choisy-le-Roi, accompanied by 3 artists from the Grenier Neuf company, question their experience of exile and their trajectories. Collective restitution, at the Paul Eluard Theater in Choisy le Roy, September 16, 2017. Stage 2, Strasbourg // May 2019, with Le Maillon.
Stage 1  was supported by the endowment fund InPACT – Initiative for cultural sharing. This project also receives support from the SDAT DRAC IDF, the City Policy and the City of Choisy-le-Roi.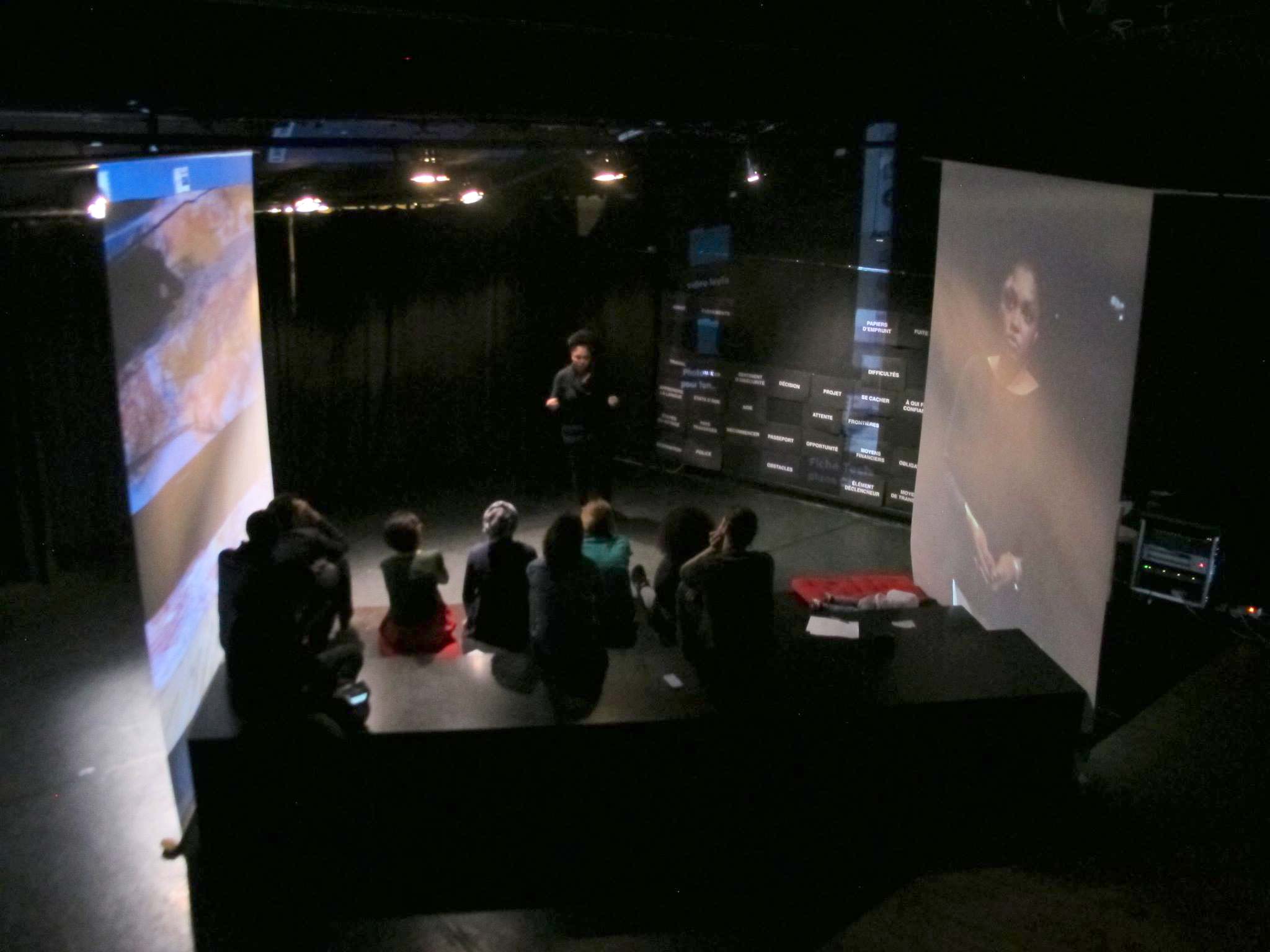 Outre le travail avec, à partir, autour, à l'initiative de, etc. des récits des participants [il faudrait détailler le terme tant la palette de ces récits est large, comprenant des silences, les absences, incluant toutes sortes d'histoires et pas seulement des récits de traversée, incluant les 'récits' des structures qui  accueillent le projet, etc.], à chaque étape du processus, nous développons un dispositif spatial, un ' gradin- scène' bordé par deux écrans latéraux : dispositif de travail, de réunions, place des témoins, des spectateurs, à différents moments, qu'ils soient publics ou non. Placé au centre, activé de toutes parts et pas seulement [mais aussi] comme dispositif frontal de [re]présentation.
– – – – – – – – – – – – – – – – – – – – – – – – – – – – – – – – – – – – – – – –
In addition to the work with, from, around, on the initiative of, etc. stories from participants [the term should be detailed as the range of these stories is wide, including silences, absences, including all kinds of stories and not just stories of crossing, including the 'stories' of the structures that host the project, etc.], at each stage of the process, we develop a spatial device, a 'bleacher-stage' bordered by two side screens: working device, meetings, place for witness, spectators, at different times, whether that they are public or not. Positionned at the center, activated from all sides and not only [but also] as a frontal [re] presentation device.