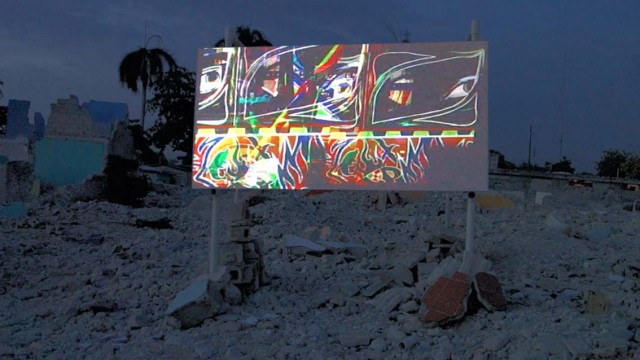 The Port au Prince series # 2 // Le goudou goudou du gouvernement
Une installation vidéo avec les photos du bus de Port au Prince. Les peintures des bus sont vues comme une « urbanité utopique », une cartographie visuelle de la ville comme si elle avait été construite par les habitants. Je mets en scène une projection au centre-ville de Port au Prince, dans les ruines des récentes destructions par le gouvernement manière de reconstruire une « ville nouvelle », un centre-ville « moderne ». Goudou goudou signifie tremblement de terre.
————————————————————————————————————–
A video installation with the Port au Prince bus photos. The busses paintings are viewed as an 'utopic urbanity', a visual mapping of the city as if it was built by inhabitants. I stage a projection downtown Port au Prince, in the ruins of the recent destructions by the government a way to rebuild a 'new city', a 'modern' city center. Goudou goudou means earth quake.