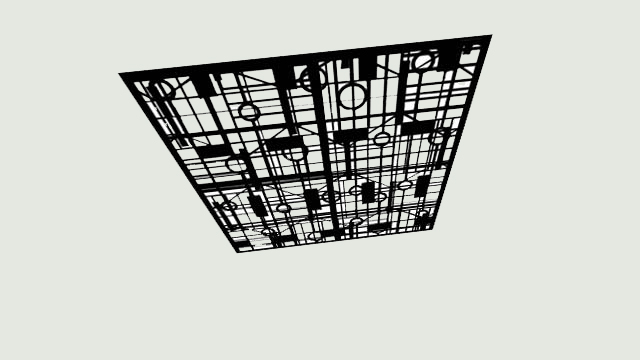 2013 > // Theatrical structure in Port au Prince
I'm invited by Guy Régis Jr, writer and director, in charge of the theater department at the ENARTS (Port au Prince school of art). The support of the French Institute made this research process possible.
This project is a half permanent construction for the theater space at ENARTS, including the garden next, in order to create a theater and performative open space. This place gives multiples options in terms of dispositifs, and relations between the stage and the audience, including a 'classical' format (frontal black box). The approach here is scenographic first, before being architectural.
The intervention consists in:
> A reorganization of the existing classroom/rehearsal space: increase its height, install of a technical ceiling, and most importantly, open it on the garden via a large door with multiple wooden panels and openings. This 'door' works like a frame with the possibility to frame and unframe according to the needs. The frame is no longer a plan, it is thick, multiple, mental, labyrinthine… It works with the idea of non objectifying bodies.
> A reorganization of the garden: the ground but especially the creation of a structure which is at the same time a technical ceiling, a geometrical game (like grids on windows visible everywhere in the city), and a roof (colored > this is not a black box). The fact of covering the all garden with a technical ceiling is an essential element which allows the flexibility of the space in terms of practices. But at the same time the garden is preserved as much as possible, the trees in particular, even when they are on the stage. This is part of an approach of theatrical space at the same time dynamic and not separated from the city.
> A row of seats, made with a series of modules. It can be installed anywhere, and allows multiple scenic relations between the stage and the audience.
The principle of this intervention is simple but essential: not mortgage the spatial options by fixing them, but on the contrary multiply them in order to allow the creation of dispositifs – a way to interrogate what is a theatrical place today. We try, as much as possible, to maintain the place in its simplicity and its materiality. In order to obtain a space which is organically connected to it's environment.
2 virtual views of the space from the garden (3d drawing by Julien Margelin):
Various configurations of the place (in brown the audience space) & plan:
The classroom / stage is connected to the garden by a door – frame. Many options of openings, ruled by a simple system, are possible. They turn the frame into a space.
————————
FRENCH VERSION:
Ce projet est un réaménagement semi permanent de la salle de théâtre de l'ENARTS (Ecole d'Art de Port au Prince) en y incluant la partie du jardin qui se trouve à proximité, afin d'en faire un lieu théâtral et performatif ouvert, offrant un grand nombre de possibilités en termes de dispositifs et de rapports scène salle, y compris un format 'classique' (boite noire frontale). L'approche est ici scénographique avant d'être architecturale.
L'intervention consiste en :
> Un réaménagement de la salle existante : augmentation de sa hauteur, installation d'un grill technique, et surtout, possiblité d'ouverture sur le jardin par une grande porte à panneaux multiples. Cette porte fonctionne comme un cadre de scène qui se décadre et se recadre selon les besoins. Le cadre n'est plus un plan, il est épais, multiple, mental, labyrinthique… Il travaille à ne pas objectifier les corps.
> Un réaménagement du jardin : remise en état des sols et surtout création d'une structure qui est à la fois un grill technique et une toiture (colorée > il ne s'agit pas de créer une boite noire). Le fait de couvrir l'ensemble du lieu par un grill est l'élément essentiel qui permet la flexibilité des usages de l'espace. Pour autant, on préserve autant que possible le lieu tel qu'il est et en particulier les arbres, y compris sur la scène. Cela participe d'une pensée de l'espace théâtral à la fois dynamique et inscrite – non séparée – dans la ville.
> Un gradin, fait de modules, que l'on peut installer où l'on veut, et qui permet une multitude de rapports scéniques entre scène et salle.
L'intervention se structure selon un principe simple mais essentiel au projet : ne pas hypothéquer les possibilités spatiales en les fixant, mais au contraire les démultiplier afin de permettre l'invention de dispositifs – manière aussi d'interroger ce qu'est un lieu théâtral aujourd'hui. On tente aussi, autant que faire se peut, de maintenir le lieu dans sa simplicité et sa matérialité (en résolvant toutefois des questions techniques essentielles). Afin de parvenir à un espace organiquement lié à son environnement.