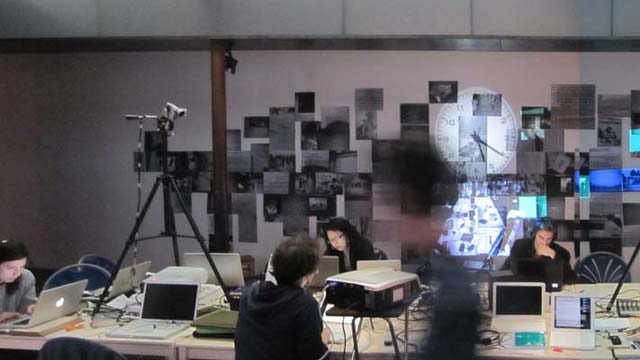 2011 // Infidélités Don Juan
A proposition by 35 students from Art department (Hors Format), and Scenography at the Ecole Supérieure des Arts Décoratifs de Strasbourg (ESADS – HEAR) with the complicity of the CEAAC (Centre Européen d'Action Artistique Contemporaine). In the context of the seminar and ARC directed by Jean-Christophe Lanquetin, Francisco Ruiz de Infante and Pierre Mercier, with the participation of Eléonore Hellio. This program is part of the activities 'Etudes de cas?' Interreg DAC 2010-12 project (Digital Art Conservation). During this 1:1 scale sequence at the CEAAC, we test a series of dispositifs, installations, performances, in a semi opened relation to audiences. The projects are not finalized and the audience is participating a step in their development. The fact of being in a public place reinforce the stake.
The table and the wall is an experimentation about staging a research process on a text. We collect documents, pictures, fragments, quotes, by all the participants, most of them working on a daily basis at the long table in the middle of the exhibition space. We take a picture of each document on the table, and they are added to the wall. The processus continues with the superposition of projections, as a way to introduce time in this process.