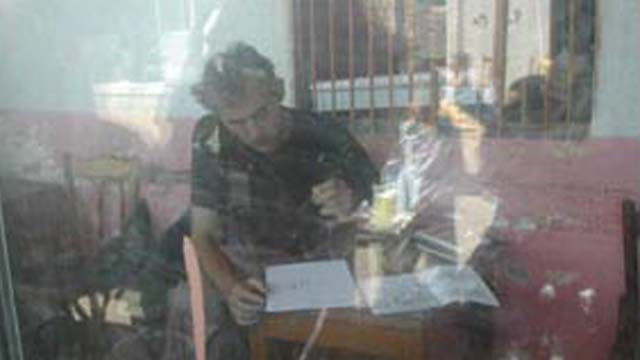 In the net // El Max- Alexandria // 2004
Voir l'ensemble de la résidence : Scénos Urbaines website 
El Max est un quartier de pêcheurs dans la banlieue d'Alexandrie, où ScU2 a co-réalisé avec Gudran, une résidence des Scénos Urbaines en septembre 2003. Mon projet d'installation consistait en la construction d'un espace avec des matériaux locaux, les plus communs et familiers à El Max, sur le toit d'une maison. Le fait qu'il s'agisse d'un espace 'banal' était important car je souhaitais qu'il soit familier aux gens, et aussi expérimenter l'idée d'une pièce d'artiste 'invisible', particulièrement dans un tel environnement urbain, très dense. Le processus était guidée par les questions et émotions liées au fait de vivre dans le quartier : la multitude des tensions, des pressions, et simultanément la qualité des rencontres avec les gens. Un environnement chargé de paradoxes, d'interdictions réelles et ridicules [ne pas pouvoir prendre de photos de ce qui se trouve autour du quartier], où la plupart du temps tu ne comprends rien à la manière dont les choses se passent. J'avais la possibilité de travailler sur un toit surplombant le canal, qui est la principale artère de ce quartier de pêcheurs, cerné par une massive présence d'industrie pétrochimique, par de nouveaux immeubles résidentiels en construction, un trafic de camions et des pipelines sur le pont à l'entrée du quartier, un vieux fort militaire anglais, et peut-être des bateaux militaires américains et israéliens au large, en mer… Mais aussi une mosquée, la mer, une plage avec de vieux bateaux rouillés… L'idée était de créer un point de vue panoramique. Le travail était constamment interrompu. Je devais attendre, dialoguer, attendre à nouveau, pendant des jours, interrompu et interdit de continuer le projet sans comprendre pourquoi… et finalement ne pas avoir la possibilité de le finir. J'ai donc fini par dessiner l'espace sur une table dans le café au coin de la rue.
– – – – – – – – – – – – – – – – – – – – – – – – – – – – – – – – – – – – – –
El Max is a fishermen area in the suburb of Alexandria, where ScU2 co-realised with Gudran a Urban Scenos residency in september 2003. The project for this installation was to build a space with local material, the most common and familiar one in El Max, on the rooftop of a house. The fact it was an apparently 'banal' space was important as I wanted it to be familiar to people, and also to experiment the idea of an 'invisible' art piece particularly in such a dense urban environment. The process was driven by the questions and emotions who came from the fact of living in this area: the multitude of tensions, pressures, and at the same time the quality of encounters with people. An environment full of paradoxes, of real and ridiculous bans (the interdiction to take pictures of what is around the area!), where most of the time you understand nothing about how things go. I had the possibility to work on a rooftop upon the canal, which is the main artery in this fisherman's area enclosed all around by massive petrochemical industry, new residential buildings under construction, trucks traffic and pipelines on the bridge, an old English military fort, and maybe the Israeli and American ships in the sea…, but also a mosque, the sea, a beach with old rusty ships … The idea was to create a panoramic point of view. The work was constantly interrupted. I had to wait, dialog, still wait, for days, being interrupted and forbidden to continue the project without understanding why… and in the end not have the possibility to finalize it. I ended up drawing the space at a table in the cafe around the corner.
ElMax (Le canal)
Cette installation est un environnement construit sur le toit d'une maison, avec un filet, une 'cage' à travers laquelle on pourrait avoir une belle vue panoramique sur le milieu, la mer, mais aussi les tensions territoriales et politiques entre le village de pêcheurs le long du canal et ce qui l'entoure. Dans cet espace, on pourrait simplement s'asseoir et regarder, mais à travers un filet, ainsi qu'une courte vidéo des pêcheurs réparant leurs filets, silencieusement, dans la nuit noire, en revenant de la mer.
The installation is an environment built on the rooftop of a house, with a net, a 'cage' through which you could see a beautiful panoramic view on the area, the sea, but also the territorial and political tensions between the fishermen's village along the canal and what is around. In that space, you could simply sit, watch but through a net, and also a short video of the fishermen's arranging their nets, silently, in the dark night, after coming back from the sea.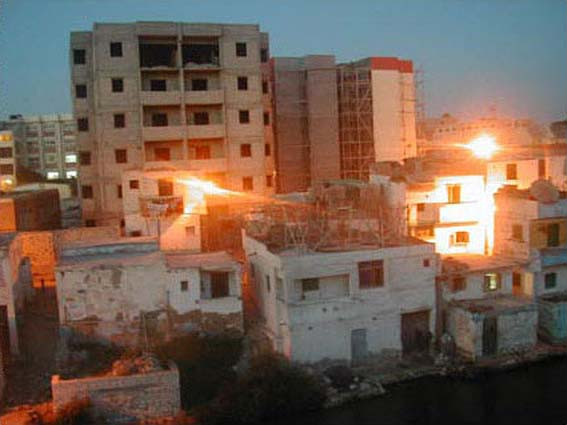 Esquisses