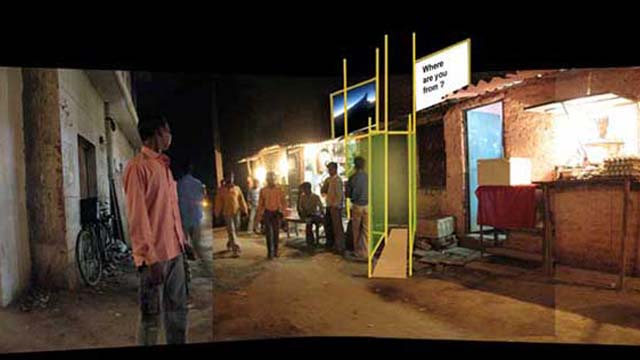 2008 // Where are you from 2 // New Delhi
In Delhi, for a two weeks residency time at Khoj, people were constantly asking me questions about where I come from and also were watching me intensely. In the area, Kirki extention, a lot of migrant workers live there. For the festival performance (KhojLive 2008), I decide to build a shop, in the main street, between the barber and the tea shop. I want to dialog with people, show fragments of my life, beyond clichés. The shop opens for one evening during the festival. People enter, one by one, and write a question, starting by WHERE, on a piece of paper: Where are you from ? Where do you live, eat ? etc. I'm in front of them. A camera films the person and the question. I reply with a short video (1min each) about my daily life, my place, my family, my travels, etc. Both, the question and the answer appear on two screens outside the shop, in the street. The street gets packed by the crowd. The police comes and beat people ! End of the performance.
Immobile : a vidéo
Thanks to Benedicte Alliot, Pooja Sood, Parul, Boka and all Khoj team, Rikimi Madhukaillya, Steven Cohen.