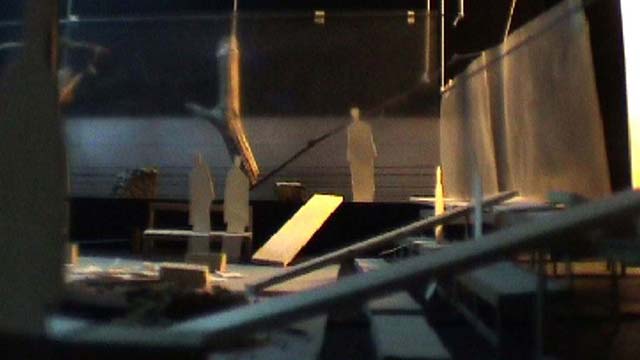 2002 // Gilgamesh, Il n'est pas mort // François Abou Salem.
Text: fragments of Gilgamesh epics, and by Hassan Barghouti Direction François Abou Salem  Music Kudsi Erguner / Creation at the Cité de la musique, Nanterre / 2002.
For this second project based on the epics of Gilgamesh, the spatial focus is quite similar, how to stage a landscape. Not only from outside, as a picture, but also from inside. Two audience spaces are on the stage on both sides of the central square. All around there is a path made of planks and tables. The backstage is an horizon. The space is occupied by a multiplicity of elements, signs, objects, materials (bricks, earth, daylife objects…). The research process was particularly significant, with various versions of the space, trying to push visually these ideas of complexity and of landscape. Trying also to blur the visibility.
François Abou Salem passed away in Jerusalem in october 2011.
The performance:
Drawings and models:
A first experimentation:
Gilgamesh project / Texts Hussein Barghouti / Direction Francois Abou Salem / Forum Culturel du Blanc Mesnil 2001